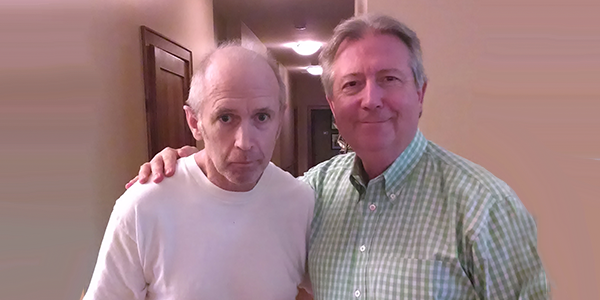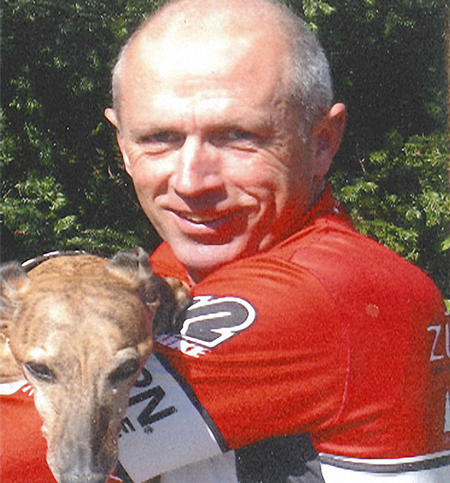 Kevin Fiske is shown with his dog, Claudio, in 2008 after winning his age division at the USA Cycling National Championship.
By anyone's estimate, Kevin Fiske was an extremely active person in addition to being a successful businessman. He ran eight marathons and was competitive in cycling, rowing, mountain climbing, cross country skiing and Golden Glove boxing. In 2008, at the age of 58, he won the time trials for his age division at the USA Cycling National Championship. Two years later, he was diagnosed with young onset Alzheimer's disease.
Pat Fiske remembers what his brother said on the drive back from that medical appointment. "He said 'I never thought this would happen to me and I don't know why it happened.' Kevin always thought if you committed yourself to fitness, ate the right food and lived a healthy lifestyle that you wouldn't have these problems."
Kevin died in October 2014. As his brother's executor, Pat designated that a portion of Kevin's estate help fund the research of the Health Partners Center for Memory and Aging. Pat also added the center to his own will, and he and his wife, Bernie, have given generous contributions.
Even before Kevin's diagnosis, Pat's family was no stranger to Alzheimer's. Pat's mother and grandmother and Bernie's grandmother all developed the disease. "I feel fortunate to have the means to financially support the Center for Memory and Aging. I also feel I have a responsibility, since I have children and grandchildren" and do not want them to suffer from Alzheimer's, Pat said.
Pat notes the work the center has done with exciting new treatments such as intranasal insulin. Originally developed in the center's labs, intranasal insulin has been shown to improve the memory, attention and functioning of Alzheimer's patients. When the U.S. government announced plans to ramp up its fight against Alzheimer's in 2012, intranasal insulin was a major piece of the effort. The center is now testing a potentially safer and more effective formulation of the medicine with human patients.
"The recognition the Center for Memory and Aging is getting for its research shows how important it is," Pat said.
Besides contributing financially to the center, Pat sits on its patient advisory council, working closely with staff members who he admires. "They're a great team and they're all special people," Pat said. "You can really sense their genuine enthusiasm about what they're working on. They're committed to finding a cure and in collaborating with other researchers worldwide. Their attitude is 'We can do this.' It's so humbling to be around these people and be a part of their work.
"In this world, if we set a goal to accomplish something, we do it. All it takes is people, time, resources and money. When I contribute to the Center for Memory and Aging, I'm investing in something important. I'm excited to see what they accomplish."