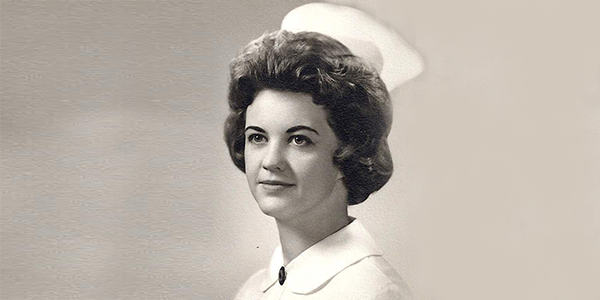 Katie, Regions Hospital Foundation donor
In her 51 years as a nurse, Katie did it all: she worked in everything from a neonatal intensive care unit to hospice care, rode in an ambulance, performed discharge planning and case management and learned the insurance side of the business. "I could do all of that because I was trained at the Ancker Hospital School of Nursing," Katie said.
Established in 1891 as a three-year training program, the Ancker Hospital School of Nursing provided outstanding education until it closed its doors in 1976. (Regions Hospital was formally known as Ancker Hospital.) To support the education of the next generation of nurses, Ancker alumni established a scholarship fund. Donations to Regions Hospital Foundation are continuing this tradition by assisting Regions employees who are pursuing a nursing degree. As part of her estate plan, Katie will endow a scholarship that will further benefit nursing education.
"The Ancker school changed my life. It allowed me to grow and gave me the confidence to pursue further education. Now I want to help others," Katie said.
Katie was also inspired by previous Ancker scholars. She remembers one woman who received assistance several decades ago when Katie was a member of the Ancker alumni scholarship committee. "She was divorced with a couple of kids, working as a nurse while trying to go to school. A scholarship helped her get her degree and she became one of the first midwives in what would become the HealthPartners system. She wrote our committee a thank you note and I saw the impact of the scholarship. It seemed like a little bit of money but it made a big difference."
With her estate gift, Katie wants to make a similar impact on the lives of future nurses. "I want them to realize their true value, that they have more potential than they can see. People need to reach their potential."