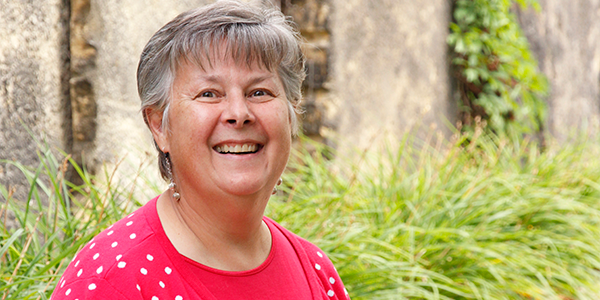 Ellen Johnson, RN
"I feel so blessed to end my career in this position. It feeds my soul," said Ellen Johnson, RN, supervisor of Regions Hospital's Sexual Assault Nurse Examiner (SANE) program. As part of the SANE program, specially trained nurses provide prompt, compassionate care to sexual assault victims while properly collecting forensic evidence. Ten years ago, Johnson decided to leave a portion of her estate to establish a continuing education fund for SANE nurses.
Johnson knows that health care funds for nursing education are limited, so each year, her fund will allow at least one SANE nurse to attend a national conference. "The more educated nurses are the better they feel about their jobs, the better they do at their jobs and the more likely they are to stay in their roles," Johnson said.
Johnson recently decided to adjust her plans. "I started thinking, why wait until I die? I want to see some of the benefits of my contributions now." After talking with her financial advisor, Johnson is withdrawing a portion of her retirement funds to establish a current endowment to benefit SANE nurse education as an addition to her future estate gift. Being older than 59½ years, Johnson can do this without financial penalty.
Johnson believes the community could benefit from an expansion of the SANE program. "More and more, we are realizing the impact of childhood and adult trauma on physical and mental health. Quality intervention at the time of assault can have a positive, lifelong impact," she said. But sexual violence isn't the only trauma that affects health; victims of child, elder and domestic abuse could also benefit from efforts like the SANE program. With an expanded role, education would become even more important for SANE nurses.
"To work in the SANE program takes as much heart as head," Johnson said. "It can be draining on nurses. We need to fill their cups. Education is a way to do that."