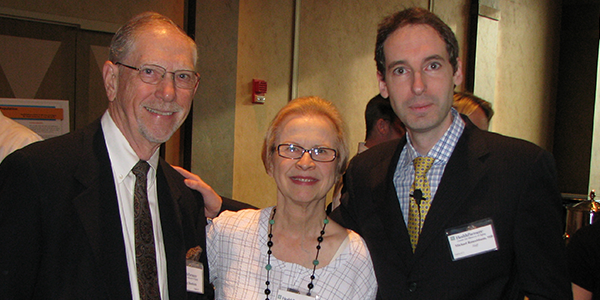 Doug and Barbara Diedrich, pictured with Michael Rosenbloom, MD
"When my mother was diagnosed with Alzheimer's we were without hope," said Doug Diedrich. Then a letter arrived from William Frey II, PhD, senior research director of the HealthPartners Center for Memory and Aging. Dr. Frey was seeking support for intranasal insulin. Pioneered within the center, intranasal insulin has become one of the most exciting potential treatments for Alzheimer's. "To us, intranasal insulin promised something other approaches did not: a means of treating a heartbreaking disease. It offered us hope. And that's all we needed to write the first check."
Doug and Barbara Diedrich have been loyal donors to the center's research work ever since. In addition, Doug has volunteered on the organization's committees, served as table host for the Annual Alzheimer's Fundraising Breakfast and advocated on behalf of the center's work.
The Diedrich's have also included the Center for Memory and Aging in their estate plan. "The effort to find a cure for Alzheimer's is not a sprint, it's a marathon," Doug said. "By including a gift of a designated dollar amount or percent in our estate planning we're able to better provide for future needs. It's our way of helping to make a difference, if not now, then for the next generation."