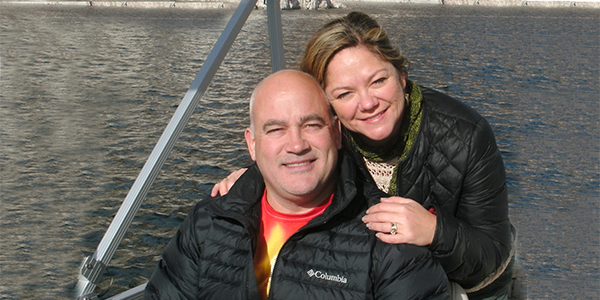 Tom and Chris Pulkrabek, Regions Hospital Foundation donors
Tom and Chris Pulkrabek are an active couple, participating together in parachuting, scuba diving, parasailing and more. "We love to travel and try new things, thrilling things," Chris said. However, despite their youth and health, the couple knows they aren't immune to an early demise, since both had parents who died young.
"If we die together, we don't want to make our relatives take care of everything," Chris said. The Pulkrabeks don't have any children and wanted to ensure that certain family members, as well as the charities the couple values, receive as much of their estate as possible, so they worked closely with their attorney to create a will that met their goals. The HealthPartners Center for Memory and Aging and HealthPartners Hospice and Palliative Care will be prominent recipients of their estate proceeds. "We want the organizations that we care about to be a part of our legacy," Chris said.
"Hospice care did a fantastic job of caring for my dad at the end of his life," Tom said. His mother has Alzheimer's disease and also receives hospice care. Tom and Chris appreciate the comfort hospice staff members have provided to their family and all the important tasks they have performed, like bathing Tom's father when he was unable to do it himself. Hospice care also provided the couple with a bed and wheelchair that best fit the needs of Tom's mother.
"Hospice care helps people die with dignity," Chris said. "We want this kind of compassionate care to always be available for others."
Tom and Chris are also pleased with the "amazing" care that the Center for Memory and Aging has provided to Tom's mother, but it is the center's research that will receive proceeds from their estate. The center uses advanced research to find new ways to identify, treat and prevent neurological disorders, and their discoveries are being used by scientists worldwide. Given Tom and Chris's family history, a contribution to the center's research was natural; in addition to Tom's mother, Chris's mom died of a brain hemorrhage, Tom's uncle of a stroke and his cousin's wife of a brain tumor.
Chris works as the planned giving officer in Regions Hospital Foundation, so she knows the work of the hospital and its programs. "I've been blessed to work at Regions. The staff members are amazing. They always have their hearts in the right place when it comes to providing the very best care, but they also value research and are on the cusp of discovering great things. I trust that the hospital will do the right thing with our money once we're gone."
Being able to use an estate gift to strengthen their chosen charities has made the couple feel less afraid of dying, Chris said. "We know we have a legacy that will live on, that we will do good even when we're gone. We won't be forgotten."